Nashville S5E9 Review
Will tomorrow come for Rayna? Find out in the episode of #NashvilleCMT that you cannot miss.
*SPOILERS AHEAD*
Rayna is being rushed into the hospital. Deacon calls Maddie, and tells her what happened. Scarlett is with Damien, and has to pick up Daphne. Rayna is stable.

Rayna wants to write another song. Juliette is having leg pain, and hears about Rayna. Rayna is talking to Daphne and Maddie, everyone is worried. Rayna goes into another surgery. Maddie is sick, she feels that it is her fault.

Rayna did well in surgery, and the doctor tells everyone that she'll be ok. Clay and Maddie walk on the Deyna bridge. Gunnar is mad Scarlett was with Damien. Juliette goes to see Rayna and there is a really nice scene of old Juliette. Maddie vents to Clay about how she treated Rayna so bad. Rayna and Deacon try to write a final song.

Rayna is doing better, Daphne wants to skip a concert at school, since Rayna can't go. Daphne says she only has Rayna that cares about her. Juliette has an irregularity on her leg, and gets freaked out. Rayna sees her dead mom, and has a conversation with her. Her mom is "helping her write her song", and tells Rayna that "maybe this song is finished".

Deacon is freaked out about Rayna seeing her mother. The doctor tells Deacon that she is just out of it, on a lot of pain meds. Rayna and Scarlett talk about Damien, and Scarlett's relationship with him. Rayna tells Scarlett that Gunnar is the one for her. Rayna tells Daphne that Deacon loves him, always will, and he will always be there for her. Daphne's choir is singing for Rayna, when Rayna takes a turn for the worse. She gets moved into the ICU, and Maddie cannot get back to the hospital.

Rayna takes a major turn for the worse, with levels dropping, and not much to be done. Maddie makes it to outside the hospital. Deacon sneaks in to see Rayna, and she tells him if something happens to her, stay strong and be there for the girls. The doctor tells Juliette she can walk again, and the doctor is taken away to go see Rayna. Rayna's organs are failing. Juliette walks again. The doctors say there is not much that can be done for Rayna. Maddie is not there yet. Juliette goes to Rayna's side, with Scunnar, the girls, and Bucky. Juliette says all she ever wanted to do was make Rayna proud of her. Nothing else can be done for Rayna. This is a really emotional and sad scene. It was done so well. The girls and Deacon sing "A Life That's Good" by Rayna's side. She opens her eyes one last time, sees her family, and dies. Deacon and the girls break down by Rayna.


Songs Review:
To Make You Feel My Love 9/10
East Iris 7/10
A Life That's Good (Sad Version) 7/10
Review:
10/10
This episode was the second good episode of the season. The old writer really channels the character's true personalities, and has all of the emotions and plots that made the show great for four years. The episode was done amazingly. It had really good plots, the music was done well, the writing was good (thanks old Nashville writer!), and the scenes with Rayna throughout the episode were really sad, and done extremely well. This episode was done and handled so well, it was really sad, and was written and played out fantastically.

Goodbye Rayna.


What did you think of "If Tomorrow Never Comes?" Let us know in the comments below!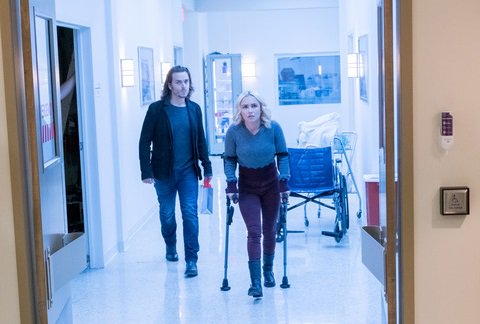 Share this