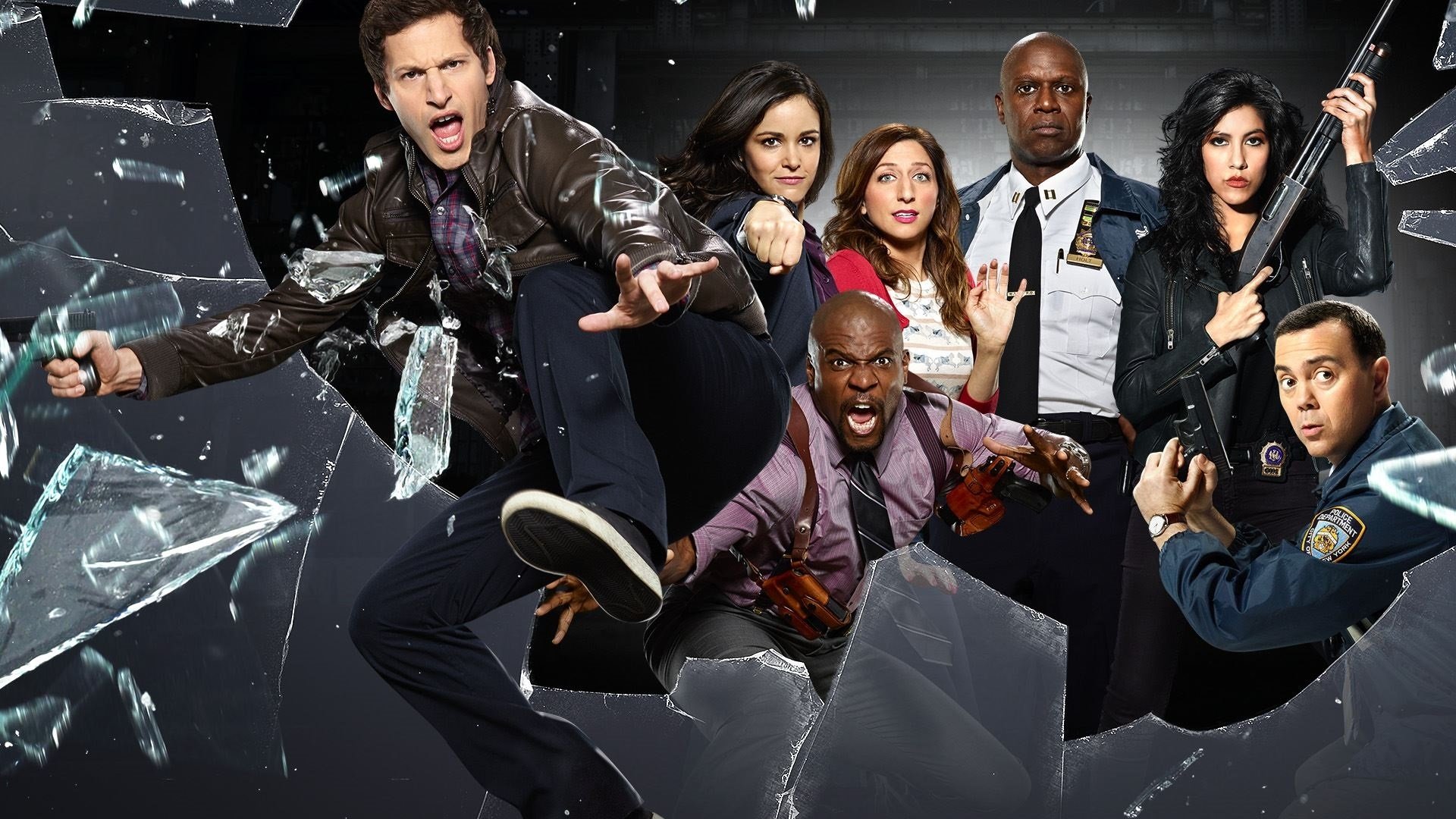 photo: hdwallpaper.nu
Through 80 episodes (and counting), Brooklyn Nine-Nine has provided some of the funniest moments of this television decade. From Peralta's shenanigans to Holt's deadpan nature, it's tough not to love every episode. What's tougher is trying to pinpoint ten episodes that represent the best of the best that Brooklyn offers. Luckily, I'm up to that challenge. Here are my top 10 episodes of Brooklyn Nine-Nine.
10. Season 2, Episode 5: The Mole
When a germophobic lieutenant from Internal Affairs informs Holt that there's a mole in the precinct, Jake and Holt team up to find out who it is, and of course, hilarity ensues. This leads to Jake pulling an all-nighter with Holt to crack the case, but things get shaky when they start accusing each other of leaking the information. In the end, the duo finds that Wunch was behind all this and pull a clever stunt to get back at her. There's also a silent disco side plot with Rosa and Terry as the Giggle Pig arc continues while Jake finds out he can't trust anyone when he and Amy find Boyle & Charles having sex. And who could forget Holt's Shakespearean monologue, it's damn inspirational. Fun fact, this was the episode that was submitted to the Emmys for supporting actor Andre Braugher and for good reason.


9. Season 2, Episode 12: Beach House
photo: Brooklyn Nine-Nine Wiki
Ain't no party like a Captain Holt party. The gang heads to Boyle's ex-wife's beach house for DOG (detectives only getaway) party 2015 but things take a twist when Jake invites Captain Holt to join on the fun. This one is a classic ensemble episode, definitely one to show to first-time viewers, because everything plays out well. From six-drink Amy to vacation Terry, every character has a moment to shine. Holt also gets his moment in the sun as he sinks down to the squad's level, but not before he completely bores the squad to the extent where they split the parties in two. Amidst the comedy, there's some sad stuff as we see how Holt was discluded from "joshing around with his peers" in the 70s, which makes me even happier when he starts to josh around with the squad. Fun fact, this episode remains the highest-rated episode to date (aside from the post-Super Bowl episode) with a 3.0 in the 18-49 demo, and deservedly so.
8. Season 1, Episode 5: The Vulture
The Vulture is one of the earlier episodes of Brooklyn Nine-Nine and already we see the great dynamics between the characters. It also features the debut of everyone's favorite douchebag, The Vulture, as he steals Peralta's nearly-finished case to finish and take credit for it. Jake, Boyle, Rosa, Amy, Hitchcock & Scully all get tipsy and invade the crime scene in an attempt to solve it first. It's just another one of those ensemble episodes, like Beach House, and it's just plain fun. Elsewhere, Holt & Gina try to get Terry back in the force after his famous mannequin incident. One of the funniest moments in this one is in the cold opening where Jake, Amy, and Rosa brag about the oldest perp they've bagged and Charles thinks they're talking about the oldest person they've had sex with, classic Boyle.
7. Season 2, Episode 10: The Pontiac Bandit Returns
Reunited and it feels so good. The Pontiac Bandit is back in this holiday-themed episode after he escaped back in Season 1. As always, the chemistry of Craig Robinson and Andy Samberg work ridiculously well as the Pontiac Bandit leads Jake & Rosa to Giggle Pig supplier Tito Ruiz. Unfortunately, Doug Judy escapes again but busting Ruiz is a victory for the precinct. Meanwhile, Santiago tries yet again to find a loophole in Holt's "no-gift policy" while Boyle & Gina continue to be disgusted by their how close their parents are becoming. It's all just enough to get into the holiday spirit.


6. Season 2, Episode 4: Halloween II
Out of the four Halloween episodes, this one's got to be my all-time favorite. The bet between Jake and Holt continues, this time Jake has to steal Holt's watch by midnight. Unfortunately, Peralta doesn't have the upper-hand this time and as he treks across Brooklyn, he loses his badge, gun, shoes, and ultimately ends up in the interrogation room as Captain intricately explains how he defeated him. Holt's plan here is so much more creative than Jake's in the first one and it's always surprising to see how much fun the Captain can have in these competitions. Plus, who wouldn't want to see Jake Tokyo drifting in a shopping cart.
5. Season 3, Episode 20: Paranoia
Here's a much more recent classic with Adrian Pimento, the guy you either really love or hate, personally I'm part of the former. Rosa & Pimento are about to get married, so the girls (and Boyle) have a party with Rosa while the guys go with Pimento. Things take a dark turn when the guys find that Figgis hired an assassin to kill Adrian, resulting in him having to fake his death, and then go into hiding after they find that Figgis has an agent in the FBI. Adrian's madcap humor shines in the episode but the Rosa plot is equally good as Amy, Gina, and Boyle each try to give her the best party from laser tag to trivia. The end result is rather somber as Rosa bids goodbye to Pimento and the gang vows to take down Figgis. This episode is a great kick starter to the Figgis arc, which unfortunately ended on a sour note with Coral Palms Pt.3, but even as a stand-alone episode, it's a fun ride.
4. Season 3, Episode 10: Yippie Kayak
Yippie Kayak other buckets. Here's another example of a recent Brooklyn classic. Jake forgets to find a Christmas present for Charles so he rushes to the store to get one, with Charles himself and Gina tagging along. Unfortunately, a robbery is taking place so Jake and Charles have to take action and stop them. To Jake's glee, it's real-life Die Hard. This one is just plain fun as the duo tries to take down the criminals to Onyx's "Slam". We also get the return of The Vulture as he tries to save the day before Peralta can, but ends up getting humiliated by Terry. Amy also tries to prove to Holt & Rosa that she can do the Polar Bear swim, but I'd say the funnier Santiago moment in this episode is when she places an unmarked package on Holt's desk to try to escape his "no-gift policy". This gem of a Die Hard homage completes the trifecta of must-watch Brooklyn Nine-Nine Christmas episodes.
3. Season 1, Episode 10: Thanksgiving
If Brooklyn Nine-Nine was as recognizable as Seinfeld "My wife was murdered by a man in a yellow sweater" would be as wildly quoted as "Not that there's anything wrong with it". Peralta simply hates Thanksgiving and finds an opportunity to get out of Amy's disaster Thanksgiving dinner to work a case with Holt. Approaching the criminal, Peralta makes up aliases for the two, Barley and Jimes. Jimes, a man who solved every case except one, the murder of his wife. Holt goes into character during their visit to the perp's house and it's just too good. The Amy Thanksgiving dinner results in many relocations, from Shaw's Bar to back to the precinct, and of course Rosa is happy the night was a disaster, on the other hand, Terry can't stop being hungry. The final result is an ethnic dinner at the precinct with the whole squad together, what's better than the 9-9 to get you in the turkey day spirit?
2. Season 1, Episode 11: Christmas
I know this list has been like half-holiday episodes, but what can I say, they're just so good. The captain receives death threats and he enlists Peralta to look after him. Of course, Jake uses his power over Holt as much as possible, handcuffing him and quarantining him in a no tie-zone. Things get legitimately tense when the squad faces off against the man who made these threats and it all ends with Boyle getting shot in the butt. Plus, who could forget that epic Santa fight.
1. Season 2, Episode 22: The Chopper
Peralta, Boyle, and Holt flying in a helicopter to find a murderer and a million bucks, how could this not be amazing. This is an episode where you not only get hooked on the gang's hijinks but the case itself as they try to find the members of the Fulton Street Four. There's nothing you can't love in this one from Holt, Jake & Boyle jumping off the helicopter in bad-ass fashion to the rest of the squad hosting a field trip for some middle-schoolers to Santiago proclaiming "Some say latin is a dead language, but I say it's just taking a long nap". It's always a pleasure seeing the fun-side of Captain Holt, even if it has been over-used a bit in season 4, and this episode showcases it perfectly. Also, who could forget that hilarious cold opening bit.
Those are just 10 of 80 Brooklyn must-watches. I didn't exclude episodes from season 4, it just kind of worked out that way, though the most recent episode, The Fugitive Pt.2, was a stronger contender but barely missed the list.
Read any of my past reviews by clicking on #Brooklyn99 near the top of this article.
Thanks for reading and what are your top 10 B99 episodes? Comment below.
Share this