I'm starting to think our protagonist ain't really a good guy, and that's probably a good thing.
S1E7 ' He Gone'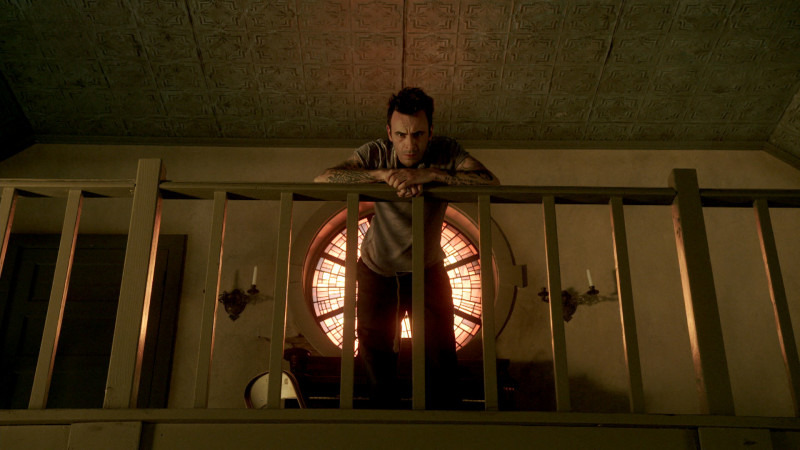 AMC
Jesse gets flustered after Eugene disappears and doesn't go through with his plan to force everyone to serve God. The pressure gets to him and he starts to flash out in different ways and in the end, alienates all his friends, including Cassidy who revealed he was a vampire by setting himself on fire after walking into sunlight. To make matters worse, Quincannon comes after Jesse's church because of the bet they made in episode 2. After Jesse refuses to give up the church, Quincannon shows up at the end of the episode with a team of men ready to demolish Jesse's church.
Back in the past, we see how Jesse lived with his father and how his dad had Tulip sent into foster care against Jesse's wishes, right before he was murdered right in front of Jesse, leaving him to feel guilty about his father's death.
Despite not coming up to the standards set buy last week's episode, this was a great episode. Focusing mainly on character development instead of story, it allowed us to get to know more about the characters before a likely shift in the story pace in the last few episodes. I really felt bad for Tulip and Cassidy, as they both got treated like shit by Jesse. They deserved better. While the flashbacks were a nice touch, I still feel like they should have focused more on Eugene's disappearance. The absence of the angels was also very noticeable. While the end of the episode wasn't as epic as the last episode, it still gave the feeling that something big is about to happen.
Quote of the week: "I'm a lazy, lying, self obsessed drug abusing cheating fornicator with a filthy mouth and no ambition. And I think your God, if he really does exist, is not more than a stocious moppet. And that's not the worst of my sins neither, Preacher. Not by a long shot"
Share this