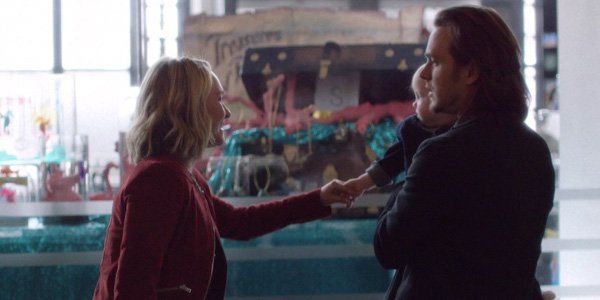 Nashville S4E17 Review
The drama is majorly heating up tonight on Nashville.
***SPOILERS AHEAD***
Rayna and Deacon are stuck posing in Southern Living, and say that they have to just hope Maddie comes to her senses. Juliette is back to performing, and Luke is working on Will's radio comeback. Scarlett is mad at Gunnar. Juliette is trying to get Avery back, but he instead kisses Layla, but they are interrupted. Rayna gets Maddie's order to appear in court for an emancipation hearing.

Rayna and Deacon are being forced to appear in court in 48 hours, but Teddy has to appear instead of Deacon, being her legal guardian. Maddie is not allowed to talk to any of her family until after the emancipation. Gunnar and Scarlett get trapped in an elevator. Rayna goes to see Teddy and fills him in, but he wants to hear Maddie's side of the story. Juliette asks Avery to sing a song with her, but he is unsure. Glenn is too busy helping Juliette to focus on Layla. Nobody shows up to Will's radio programming show.

Scarlett is mad because Autumn is getting close to Gunnar, and Autumn is her idol. Deacon and Daphne bond over music. Avery denies Juliette's offer to perform with him, as he is here with Layla he says. Glenn tells her that she needs to just show him that she has changed. Rayna confronts Cash, and tells Cash that she only cares about herself, and if she keeps doing this, she will make sure nobody ever works with her again. Teddy tells Maddie the truth behind the Edgehill deal, and she gets mad, leaves and says that all her parents are liars.

Will and Luke promote his music. Daphne is upset about Maddie. Teddy says that he will help Rayna. Scarlett and Gunnar bond in the elevator. Rayna catches up to Maddie and tries to change her mind, Maddie says she needs to think. Layla is mad about Glenn spending time with Juliette but he says not to worry. Juliette tells Avery that she still loves him, and he tells her that she will ruin him again. She tells him that she is sorry and they can rebuild what they had, and tells him to think.

Maddie asks about taking it too far, and Cash says she is not and then lies to Maddie saying Rayna said something bad. Scarlett and Gunnar perform 'If I Didn't Know Better'. Juliette does not know what to tell Avery, when she tries to text him. Avery goes to see Layla, and they kiss.

Scarlett and Gunnar reunite. Maddie shows up at the concert that just Daphne was supposed to play, since Maddie was gone, and they sing. Maddie tells Daphne they are still sisters, but she has to let her go. Rayna sees Maddie leave with Cash.

Really awesome episode. I really enjoyed it. Great music and plots. This show has once gotten good again. Fantastic job.
What did y'all think of the episode? Tell me in the comments below! Please, don't stop watching due to one or two storylines! I really feel like the show is getting good again, as we have the plots about music, and touring. Please remember these plots are only temporary, don't drop them. If you do you will never get to see another season of amazing plots!
Share this