Reality Shows Renew/Cancel Watch: Penultimate Edition- What to do with 'American Grit' and 'Bachelor Live'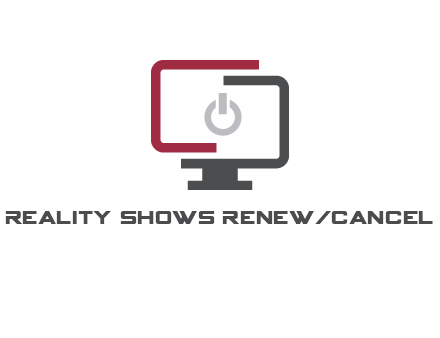 2015-16 Renew/Cancel Watch - Reality Shows - Week 31 (4/24-4/28) SECOND TO LAST EDITION
| | | | |
| --- | --- | --- | --- |
| | | | |
| | | | |
| | | | |
| | | | |
| | | | |
| | | | |
| Caught on Camera With Nick Cannon | | | |
| The Great Holiday Baking Show* | | | |
| | | | |
| | | | |
| | | | |
| | | | |
| | | | |
| My Diet Is Better Than Yours* | | | |
| | | | |
| | | | |
| | | | |
| | | | |
| | | | |
| | | | |
| | | | |
| | | | |
| | | | |
| The Great Christmas Light Fight* | | | |
| America's Next Top Model* | | | |
*
Means a show has finished airing for the season, and it will no longer be updated.
Changes from Last Week/Further Elaboration:
-------------------------------------------------------------------------------------------------------------------------
Bachelor Live
has been placed as Watching all season after hovering around a 0.9-1.1 throughout its ten episode run. Due to the Bachelor name attached to it, I was thinking ABC would renew it, but now I'm questioning that. ABC might want to use The Bachelor lead in for a new show, American Crime, or even Castle if it is renewed for a final season. So, I actually don't think ABC will renew it. So, I am moving it to.....(you'll find out in the final edition next week!)
But in the meantime, vote in the poll below and tell me where you would put it!
------------------------------------------------------------------------------------------------------------------------
American Grit
has been a Toss up to be renewed or cancelled since it entered the watch. The ratings for American Grit are just below renewed shows for FOX, and due to the show's very cheap nature, and being a reality show, FOX may renew the show, to plug somewhere if they need it. This week, it scored another 0.7, and I would lean to placing it as a renewal, but I am just wondering if FOX would want to renew it/if they need it. They might just want to order more new shows that could do better, and cut American Grit.
So, I am moving it to.....(you'll find out in the final edition next week!) But in the meantime, vote in the poll below and tell me where you would put it!
--------------------------------------------------------------------------------------------------------------------------

Beyond The Tank

has been pulling dismal 0.5s since it moved to Tuesday after OK&P was cancelled. I've kept it as a Toss up since it is a dirt cheap reality show, but I am going to move all my Toss Ups for next week, so which way will Beyond The Tank go? It is going to air two episodes on Fridays and I think that will really show how the show can do.
So, I am moving it to.....(you'll find out in the final edition next week!) But in the meantime, vote in the poll below and tell me where you would put it!
What do you think of the predictions? Let me know in the comments below! Next week my final predictions will be coming out! I am not sure if they will be released before Saturday so be looking for them towards the middle of the week.
The 100 S3E13 Review


Hulu episode descriptions are often vague, but this week's is especially vague: "Clarke is on a mission that could change everything."
S3E13 "Join or Die"
Kane and Pike have finally reached Polis, and it is a grave site, everything gray except for the blood on the ground. Jaha tells them both to take the key, but they both refuse. In a flashback, Jaha, Abby, and Kane tell Pike that he is to teach the juveniles an earth skills class. The flashback doesn't seem to have much point right now, but maybe the flashbacks to come in the episode will provide a purpose. Clarke, Bellamy, Octavia, and Jasper show up at the village, which is a scene that looks so Pacific Northwest, not Virginia. The village, however, has been abandoned.
In flashback, the kids do not take Pike's class seriously, as they have no idea that they will end up needing these skills. In the real story, Pike is brought to the prison where Murphy, Indra, and the others are. Because Pike killed 300 of Indra's people, she will give him 300 cuts. Octavia and Bellamy continue to fight, and then the group discovers that they are to contact Luna through signal fire. Abby poses as another prisoner, and tries to figure out from Kane where Clarke is, as ALIE coaches her. However, Kane figures out that Abby has taken the key. So, they torture Kane.
Clarke talks to Bellamy, and then the group gets attacked by a group of grounders coming from the water. Octavia talks to them, and they have them all drink something, because Octavia trusts Lincoln. In flashback, Pike asks Jaha to go with the kids or at least tell them what's going to happen. In the class, Pike intentionally starts a fight to prepare the class. In the story, Indra prepares to kill Pike, but Murphy encourages her not to. She eventually decides to postpone her revenge, so that they can fight against the real enemy. Indra's pain can really be felt, as she has waited so long for revenge, and it seems to her that the scales are never balanced.
In another flashback, the prisoners are taken onto the dropship. Jasper is concerned with finding Monty, which is really funny. Abby doesn't even really get to say goodbye to Clarke, as she is unconscious. These flashbacks provided little to the week's story, they only really filled time. Kane is persuaded to take the key in a similar way that Abby was, with this time Abby being the one whose life is at risk. Clarke, Bellamy, Octavia, and Jasper awake. They meet Luna, and Clarke tries to convince her to take the flame, but she refuses. It is then revealed that they are in the middle of the ocean.
There were some good moments, but this was really just another weak episode. Overall, it was mediocre.
What did you think of "Join or Die"? Leave your thoughts in the comments!
Special Review: Person of Interest S4E11
I'm Back!! Now that my exams are over, I can finally get back to work. Usually I would write about The Goldbergs but since there's no new episode this week, I thought I would take this opportunity to write about one of my favorite television episodes of all time. I'm sure that most of my readers are aware that my reviews normally contain spoilers but this time I've included a spoiler free version for potential fans. I know that the show is ending, but that doesn't mean you can't join the fandom.
(I apologize for any problems with the initial setup. I was dealing with some technical difficulties)
S4E11 " If-Then-Else"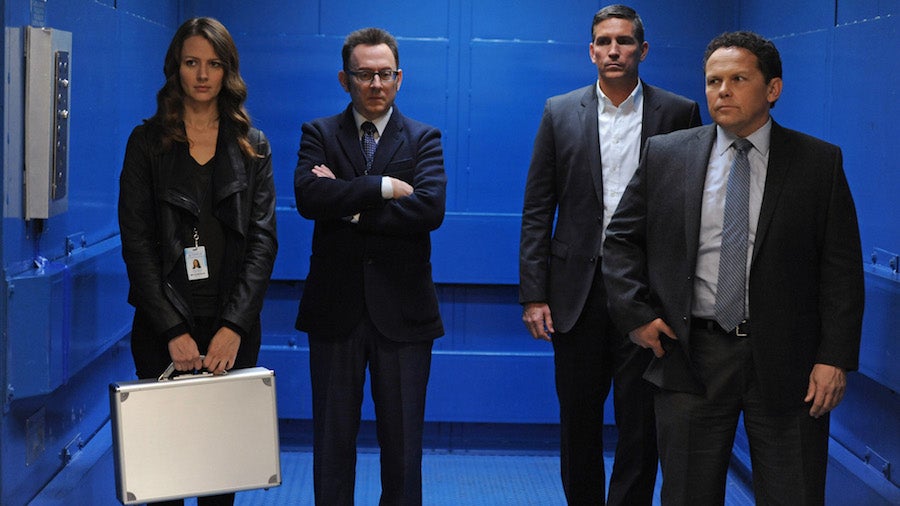 SPOILER FREE: For those unaware, Person of Interest is a show mainly about artificial intelligence. It initially started as a pseudo procedural with serialized elements but it soon became more story driven midway through season 3. Some fans didn't like the new direction, but not me. I love serialized fast paced shows with a compelling storyline and that's what Person of Interest became. What fascinated me about this episode was the unique mode of storytelling presented to the viewers. Instead of a linear story from beginning to end, this episode shows us the various possibilities which can occur in a single scenario. Sure this isn't how every episode is, but it's a great example to show how creative the writers are. Ultimately, it's a violently entertaining hour of television filled with humour and drama. Although it follows continuity, I think it's a good enough reason to watch the 78 other episodes required to understand this one. All that's needed is to take that first step.
REGULAR: Back in 2003, Harold plays a game of chess with the machine. He teaches the machine about simulating different strategies to identify an ideal route of success. But he also tells the machine that real life is not like chess and that it cannot sacrifice some people in favour of others, a lesson which the machine seems to have taken to heart as shown within the episode.
In the present, Samaritan has started to create chaos by messing with the New York Stock Exchange after its meeting with the machine via Root. In order to fix this, Harold, Reese, Root and Fusco sneak into the Stock exchange to execute a fail safe which the Machine had prepared for them while Shaw went to go get an access code required to enter the room necessary to activate the fail safe. but the gang get into trouble when the elevator shuts down and they realize it was a trap by Samaritan. To make matters worse, Shaw and some other people gets held up by a desperate suicidal man with an explosive just as she is about to get the code from a man on the subway train. The gang go to hide in a cafeteria to escape Samaritan's operatives, which is where the real fun begins. As soon as Root asks the machine for a little help, the Machine starts performing over 800,000 simulations, 3 of which we are about to see while the Machine creates them within a span of 6 seconds, a feat achieved thanks to its advanced processing capabilities.
In the first simulation, Root tells Reese and Fusco to go restart the elevator since it is their only way out while she goes with Harold to activate the fail safe. Shaw tries to get Reese to help her with her situation via bluetooth but he is too busy with the elevator so she takes matters into her own hands. She shoots the bomber but gets arrested and fails to get the code. This leads to Root shooting the access door open alerting the Samaritan operatives hiding in the computer room. Root deals with them while Harold tries to activate the fail safe but then Harold gets shot trying to save Root, deeming the simulation to be a failure. I'll be honest, when I first saw this, I thought Harold had died for real, but I was relieved when the events reversed back to real time.
In the second simulation, Root and Harold go to fix the elevator while Reese and Fusco go to activate the fail safe. This time, Shaw manages to ask Reese about the situation and he tells her to make the bomber think about someone he cares about. But that still fails and she gets arrested for shooting him. Reese and Fusco take out all the operatives in the computer room and Fusco is put in charge of activating the fail safe while Reese guarded him, which was a problem because Fusco wasn't very tech savvy. Reese soon realizes that the plan is going to fail because too many operatives soon showed up so he locks up Fusco in a nearby stairwell and ends up getting killed. Root also gets killed by some Samaritan agents after she gets caught trying to break the tension cord holding up the elevator, but not before trying to convey her feelings to Shaw.
In the final simulation, they all go to the computer room together while Shaw talks to Fusco about the suicidal man. Fusco tells her to make him realize that he is not alone in his problems. Shaw gets all the other people on the train to tell the man their problems and succeeds in solving the crisis, while getting the access code. Meanwhile, the gang successfully implement the fail safe and fix the elevator. Back in real time, the gang is still trapped in the cafeteria and time is running short for the machine so it starts to speed up the simulation which leads to the gang using hilariously simplified sentences. But after that, things get serious as they finally get towards the elevator, with Samaritan operatives in their way. The machine deems their chances of survival as 2% and chooses this as the best scenario.
Back in real time, the machine tells Root to execute the final simulation and as expected, everything goes according to plan, with the exception of Shaw showing up at the end to help the gang escape to the elevator. They all manage to get to the elevator, except Shaw who runs out to press the elevator button to save them all, but not before giving Root a kiss. Shaw is then shot while Root looks in horror as the elevator, with the episode ending on a sorrowful note.
I've had a lot of time to think about this episode and I have many things I would like to say.
First, for a while I thought that the simulations were just a way to fill up episode time, but I realized that this was done to show us the full capabilities of the machine, not to mention this was beautifully executed. Second, I know I sound like an idiot but I did not see that kiss coming. I'm surprised I didn't read the subtext in their conversations. Regardless, it was a pleasant surprise. Lastly, I want to thank the people who handle the music for putting 'Good Fortune' by the Glitch Mob into the simulations. After watching this episode, I fell in love with that song. Overall, a great episode, Period.
Quote of the special: What's the point of saving the world if you can't enjoy it?
Mom S3E19 Review


Christy isn't feeling well this week, but she can't let that stop her!
S3E19 "A Catheter and a Dipsy-Doodle"
At the start of the episode, Bonnie gets angry when Adam looks at a text that she assumes is from a girl. This is hilarious because he tries to get her to look him in the eye and say she hides no secrets from him.
Christy tries to study, but she isn't feeling well. She goes to work, and we see Chef Rudy for the first time this entire season. He sends her home after she sneezes on some food. Adam explains to Bonnie that the text was about a reunion he didn't want to go to, and she convinces him to go. Christy comes home, and she falls over. There is a hilarious moment where Adam can't find his phone because Bonnie took it.
Christy wakes up, and there is a hilarious joke about how she knows she isn't in heaven because Bonnie is there. It's also hilarious when Bonnie easily keeps her there. Adam says "love you" to Bonnie, and Christy hilariously remarks to "give him time". Christy is eventually able to escape, but she passes out after she finishes her final.
Adam returns, and tells Bonnie about his trip. He was given an opportunity to be the stunt director for a movie. The job will last 5-6 months and be in Croatia. Bonnie tells him she's fine with this, but when she goes upstairs she starts crying. Christy hilariously asks what Bonnie did.
This wasn't the strongest episode, as Act 1 wasn't as fun as it could have been, but it was still a great episode.
What did you think of "A Catheter and a Dipsy-Doodle"? Leave your thoughts in the comments!
Undateable (Not) Canceled By NBC (UPDATED)
Per TV Series Finale, Undateable will not be returning for a 4th season. It's situation was quite unique over its run; despite a comedy 3 seasons in, it only produced 36 episodes. The first season aired in the summer double-pumped, and while steadily losing viewers grabbed a renewal for beating expectations. For lack of any other option, it aired after The Voice last spring for its second season to relatively underwhelming numbers, but managed a third season renewal as NBC's only returning comedy. Season 3 aired live on Fridays, though while steady, it was steady in fractional territory and NBC couldn't have been making a whole lot of money off of it considering its ad rate was one of the lowest on all of the Big 4.
What do you think of this news? Let us know in the comments below!
UPDATE: A writer on Undateable has stated that there is "no truth whatsoever" to this cancelation. I will keep providing updates, but it looks like TV Series Finale may have jumped the gun on this one. The original statement came from the newly released Variety bubble watch article which stated:
"Undateable" is dead, despite the network's creative gamble on a
fully live season
for the most recent third round. Sources say the show was effectively cancelled last week with NBC giving a heads up to the cast and crew, though the official news may not come until upfronts."
We will keep you posted.
Hunter's Fall 2016 Schedule Predictions - April 2016
As I said I would in December, I am posting my predictions for fall 2016 again, this time with titles of new shows and the knowledge that Cooper Barrett was a flop. My predictions have changed a lot since December, with the debut of many midseason shows, and now that Containment has finally premiered, it seemed that the time is right to do this post. As with my December post, I will provide reasoning. There is a method to the madness!
ABC
SUNDAY
7:00 America's Funniest Home Videos
8:00 Once Upon a Time
9:00 Secrets & Lies
10:00 Quantico
MONDAY
8:00 Dancing with the Stars
10:00 Conviction
TUESDAY
8:00 The Middle
8:30 Square Roots
9:00 Fresh Off the Boat
9:30 Black-ish
10:00 Agents of SHIELD
WEDNESDAY
8:00 The Goldbergs
8:30 Imaginary Mary
9:00 Modern Family
9:30 Dream Team
10:00 Designated Survivor
THURSDAY
8:00 Grey's Anatomy
9:00 Scandal
10:00 How to Get Away with Murder/Still Star-Crossed
FRIDAY
8:00 Last Man Standing
8:30 Dr. Ken
9:00 Shark Tank
10:00 20/20
Mid-season:
Nashville
The Second Fattest Housewife in Westport
Speechless
Presence
Reasoning: ABC has renewed 5 comedies, 2 more look like they will be renewed, and this year's 2 new fall comedies was unusual. I doubt that they will air just 1 new comedy in the fall, so the most logical option seems to be to expand comedy on Tuesdays. The 10:00 hour on Tuesdays is a major problem anyway, so they may as well put SHIELD there. Secrets & Lies has been held for fall, and since Sundays at 9:00 have become a problem as well, it can just take its old timeslot, and then ABC can put no new shows on Sunday. This leaves two slots open, Monday and Wednesday at 10:00. Considering the competition of Chicago PD and likely Criminal Minds: Beyond Borders on Wednesday, it would be better for procedural Conviction to air on Monday. Also, it has a female lead, while Designated Survivor has a male lead, so it makes more sense to air it on Monday. This full of a fall leaves little room for midseason dramas, so I only expect fellow procedural Presence, and almost to syndication on CMT and much paid for by Tennessee Nashville to be saved. On the comedy side, Dream Team aims to be the next Modern Family, important because the once huge hit is now dying, Square Roots and Speechless aim to increase diversity on ABC, racially and otherwise, Imaginary Mary could get picked up due to a deal with Sony, because of the Goldberg name, or just because it is so creative of a concept, and The Second Fattest Housewife seems quirky enough to get the final midseason comedy slot.
CBS
SUNDAY
7:00 60 Minutes
8:00 Madam Secretary
9:00 NCIS: Los Angeles
10:00 Elementary
MONDAY
8:00 The Odd Couple
8:30 Kevin Can Wait
9:00 Supergirl
10:00 Scorpion
TUESDAY
8:00 NCIS
9:00 NCIS: New Orleans
10:00 Doubt
WEDNESDAY
8:00 Survivor
9:00 Criminal Minds
10:00 Criminal Minds: Beyond Borders
THURSDAY
8:00 The Big Bang Theory
8:30 My Time/Your Time
9:00 Life in Pieces
9:30 Mom
10:00 Limitless
FRIDAY
8:00 The Amazing Race
9:00 Hawaii Five-0
10:00 Blue Bloods
Mid-season:
2 Broke Girls
The Great Indoors
Superior Donuts
Bunker Hill
Reasoning: With the toss-ups of The Odd Couple and Limitless, CBS is tough. Since it got 1.5 without an original Big Bang Theory, I think it will get renewed. Also, CBS Studios! And, since I think it will get renewed, I think it will get a fall slot, because a 13-episode third season would put it 50 episodes away from syndication after three seasons. This means slightly stronger 2 Broke Girls has to wait, for real this time. With Life in Pieces having proven its strength, it will also return to the fall schedule, along with The Big Bang Theory and Mom, so CBS needs another comedy hour to air any new comedies in the fall. Meanwhile in the drama department, Supergirl and Criminal Minds: Beyond Borders are looking good for a return, and Limitless is looking to join them. That only leaves room for 1 new drama on the fall schedule, but I think that won't matter because I think CBS won't be a big fan of most of their drama pilots, only picking up Doubt and Bunker Hill. Doubt would fit tonally on Sunday, replacing The Good Wife, but since CBS Sundays have been so weak, and ABC has been very unsuccessful at launching new shows in that timeslot, NCIS: LA should just move there, and Doubt should air on Tuesdays, pushing Limitless to Thursdays. Why Tuesdays? Well, that lets Limitless take over the more problematic Thursday timeslot and NBC to take the procedural viewers on Tuesdays at 10:00.
CW
MONDAY
8:00 No Tomorrow
9:00 Jane the Virgin
TUESDAY
8:00 The Flash
9:00 Riverdale
WEDNESDAY
8:00 Arrow
9:00 Supernatural
THURSDAY
8:00 Legends of Tomorrow
9:00 iZombie
FRIDAY
8:00 The Vampire Diaries
9:00 Crazy Ex-Girlfriend
Mid-season:
The 100
The Originals
Colony
Reasoning: No Tomorrow has pretty much been created to air with Jane the Virgin, so they take Monday. Riverdale, the most anticipated CW show of the season, gets the biggest lead-in possible. Wednesdays go for stability. That's the easy part of the schedule. Legends of Tomorrow and The Vampire Diaries stay in place at their 8:00 spots, and The 100 is saved for midseason again (or summer if there is no room), leaving two spots and three shows (iZombie, Crazy Ex-Girlfriend, The Originals). Crazy Ex-Girlfriend is going for awards, so it will get a fall premiere, and iZombie can't take too short of a season in order to reach 70 episodes in four seasons (38 more episodes are necessary, I'm betting on two more 19-episode seasons). This leaves The Originals, which I think will take the first spot opened up in the schedule. Crazy Ex-Girlfriend takes Friday and iZombie takes Thursday because Crazy Ex-Girlfriend is more Friday-worthy.
FOX
SUNDAY
7:00 The OT
7:30 Bob's Burgers
8:00 The Simpsons
8:30 Son of Zorn
9:00 Family Guy
9:30 The Last Man on Earth
MONDAY
8:00 Gotham
9:00 24: Legacy
TUESDAY
8:00 New Girl
8:30 Charity Case
9:00 The Enforcers
9:30 Brooklyn Nine-Nine
WEDNESDAY
8:00 Star
9:00 Empire
THURSDAY
8:00 Lucifer
9:00 Rosewood
FRIDAY
8:00 MasterChef Junior
9:00 Scream Queens/Bones
Mid-season:
Chad: An American Boy
Havoc
Shots Fired
Reasoning: FOX has already renewed a surprising number of shows, and seems to have already renewed Family Guy. I think that FOX will spend their remaining time on the fall schedule fairly evenly on comedy and drama, putting 3 new comedies and 2 new dramas on the fall schedule. This fills up male-aimed Sunday and female-aimed Tuesday, sticking season four of Brooklyn Nine-Nine at 9:30. Star is an obvious pair with Empire, and I think that 24: Legacy will get picked up because this is FOX, and will get a fall spot because, from what I understand, a new 24 series would work best with a full season. Thursday could easily become procedural night, as it is comedy night on CBS and TGIT on ABC, and the shorter seasons of Scream Queens and Bones can pair up on Friday at 9:00. At midseason, Chad: An American Boy can replace one of Charity Case or The Enforcers if they don't perform well, and Havoc can air Sundays at 9:30, with The Last Man on Earth taking a break like this season, and either returning at 9:30 if Havoc fails, or in the 7:00 hour if it succeeds.
NBC
MONDAY
8:00 The Voice
10:00 Chicago Justice
TUESDAY
8:00 The Voice
9:00 Powerless
9:30 Superstore
10:00 Chicago Med
WEDNESDAY
8:00 Chicago Fire
9:00 Law & Order: SVU
10:00 Chicago PD
THURSDAY
8:00 Emerald City
9:00 The Blacklist
10:00 Blindspot
FRIDAY
8:00 Dateline
9:00 The Carmichael Show
9:30 Marlon
10:00 Grimm/Shades of Blue
Mid-season:
The Apprentice
The Biggest Loser
Hollywood Game Night
Little Big Shots
Good Place
Imaginary Friend
Sunset PPL
Patient Zero
Taken
The Blacklist spin-off
Reasoning: I think that NBC will go for two hours of comedy in the fall, one single-camera and one multi-camera. The single-camera block, including Superstore and a new comedy, either Powerless or Sunset PPL would be most compatible, I'm going for Powerless, which I think will be their priority, and as a result get post-The Voice treatment. The multi-camera block, I am predicting will air Fridays at 9:00 because, unless NBC decides to dump Emerald City there, Friday is the only available day. I chose 9:00 because I don't think that The Carmichael Show should go up against Last Man Standing, though the recent 0.7 for The Carmichael Show may cause NBC to decide to renew Undateable instead, in which case I think Dateline would air at 10:00 like usual, and the sitcom block will remain at 8:00. Chicago Med is probably too weak to lead off Wednesdays, but Chicago Fire isn't, so I think that Med will move by an hour, while Fire will move nights to create an all Dick Wolf Wednesday. Meanwhile, the newest of the Chicago series, I think will get the great Monday at 10:00 timeslot. Emerald City seems to have been pushed to fall, and it seems to be expensive, so I don't know if Friday is the right day for it. That leaves Thursday at 8:00, assuming NBC wants Blindspot to air out of The Blacklist. I don't think that Emerald City will have much TGIT crossover, so Thursdays could work for it. All signs seem to be pointing to a final season for Grimm, so I have paired it with Shades of Blue. Mid-season, I expect Good Place and Imaginary Friend to air like Superstore and Telenovela did, the same process for The Biggest Loser, Little Big Shots either keeping its timeslot or airing on Tuesdays (or both), The Blacklist to move to 8:00, with the new spin-off airing at 9:00, The Apprentice airing on Sunday, Taken airing on Sunday, replacing Chicago Justice if it somehow fails, or waiting for summer, and Sunset PPL either replacing a fall comedy that fails or waiting until summer.
And now I assume you want to tell me how wrong I am with my schedules. Go ahead, leave a comment!
The Middle S7E21 Review



Spring has come to Orson, Indiana, and Frankie hopes to enjoy it.
S7E21 "The Lanai"
Frankie is excited about the first warm day of the year, and it is really funny how over-the-top she is. However, they get new neighbors, with three kids, and more on the way. Sue and her roommate get number 4 in the dorm lottery, and they get really excited about moving into a room they really want. It's really hilarious that the thing they are most excited about is the six outlets.
Frankie decides to talk to the new neighbor, despite Mike's hilarious line advising her not to. She makes up some hilarious facts to convince the neighbor to keep her kids inside. Sue and her roommate look at the room they plan to take, and discover that one of the girls who lives there has a fatigue syndrome, so Sue, being Sue, decides to switch numbers with them. Axl and Hutch's new sandwich business is going well, until Kenny quits.
Sue and her roommate discover that the girl doesn't actually have a fatigue syndrome. Axl and Hutch get creative to keep their business up, and it is really funny. Frankie continues to get annoyed by her neighbors, despite her attempts to use her lanai. Sue and her roommate confront the girls, but discover that the one has a twin. Frankie finds a solution to her problem, when the kids complain that they want cookies, she throws some over the fence, which is hilarious.
There were many funny moments, mostly from Frankie, throughout the episode. It was a really good episode.
What did you think of "The Lanai"? Leave your thoughts in the comments!
Nashville S4E17 Review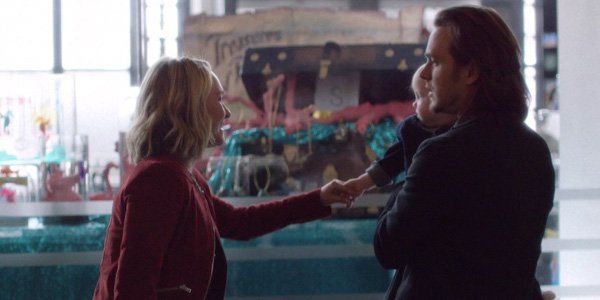 Nashville S4E17 Review
The drama is majorly heating up tonight on Nashville.
***SPOILERS AHEAD***
Rayna and Deacon are stuck posing in Southern Living, and say that they have to just hope Maddie comes to her senses. Juliette is back to performing, and Luke is working on Will's radio comeback. Scarlett is mad at Gunnar. Juliette is trying to get Avery back, but he instead kisses Layla, but they are interrupted. Rayna gets Maddie's order to appear in court for an emancipation hearing.

Rayna and Deacon are being forced to appear in court in 48 hours, but Teddy has to appear instead of Deacon, being her legal guardian. Maddie is not allowed to talk to any of her family until after the emancipation. Gunnar and Scarlett get trapped in an elevator. Rayna goes to see Teddy and fills him in, but he wants to hear Maddie's side of the story. Juliette asks Avery to sing a song with her, but he is unsure. Glenn is too busy helping Juliette to focus on Layla. Nobody shows up to Will's radio programming show.

Scarlett is mad because Autumn is getting close to Gunnar, and Autumn is her idol. Deacon and Daphne bond over music. Avery denies Juliette's offer to perform with him, as he is here with Layla he says. Glenn tells her that she needs to just show him that she has changed. Rayna confronts Cash, and tells Cash that she only cares about herself, and if she keeps doing this, she will make sure nobody ever works with her again. Teddy tells Maddie the truth behind the Edgehill deal, and she gets mad, leaves and says that all her parents are liars.

Will and Luke promote his music. Daphne is upset about Maddie. Teddy says that he will help Rayna. Scarlett and Gunnar bond in the elevator. Rayna catches up to Maddie and tries to change her mind, Maddie says she needs to think. Layla is mad about Glenn spending time with Juliette but he says not to worry. Juliette tells Avery that she still loves him, and he tells her that she will ruin him again. She tells him that she is sorry and they can rebuild what they had, and tells him to think.

Maddie asks about taking it too far, and Cash says she is not and then lies to Maddie saying Rayna said something bad. Scarlett and Gunnar perform 'If I Didn't Know Better'. Juliette does not know what to tell Avery, when she tries to text him. Avery goes to see Layla, and they kiss.

Scarlett and Gunnar reunite. Maddie shows up at the concert that just Daphne was supposed to play, since Maddie was gone, and they sing. Maddie tells Daphne they are still sisters, but she has to let her go. Rayna sees Maddie leave with Cash.

Really awesome episode. I really enjoyed it. Great music and plots. This show has once gotten good again. Fantastic job.
What did y'all think of the episode? Tell me in the comments below! Please, don't stop watching due to one or two storylines! I really feel like the show is getting good again, as we have the plots about music, and touring. Please remember these plots are only temporary, don't drop them. If you do you will never get to see another season of amazing plots!
FOX Renew/Cancel Watch: Predicting Grandfathered, Nothing Left on the Bubble
| | | | |
| --- | --- | --- | --- |
| Canceled | Cancelation Predicted | Renewal Predicted | Renewed |
| Minority Report | Bordertown | Family Guy (RENEWED) | The Simpsons |
| Cooper Barrett's Guide to Surviving Life | Grandfathered | The X-Files | Bob's Burgers |
| | The Grinder | | Empire |
| | Second Chance | | Scream Queens |
| | Sleepy Hollow | | Bones |
| | | | Gotham |
| | | | Brooklyn 9-9 |
| | | | The Last Man On Earth |
| | | | Lucifer |
| | | | Rosewood |
| | | | New Girl |
Does FOX Really Need Grandfathered?
So far this season, FOX has renewed 11 shows: comedies The Simpsons, Bob's Burgers, Brooklyn 9-9, The Last Man On Earth, and New Girl; dramas Empire, Scream Queens, Gotham, Rosewood, Lucifer, and Bones. Additionally, a renewal for Family Guy is fully expected (may not even be announced) given the fact that they are already working on a new production cycle and have leftover episodes from this cycle.
If those are all the renewals FOX hands out, then they would have renewed their top 12 scripted shows in Live + Same Day ratings, while cancelling the 8 ones that were unlucky enough to fall that threshold. Last season, the 8 shows that fell below the Top 10 were canceled, while the rest were renewed. So even if they cancel the same number of shows this season as last season, they still end up renewing two more hours, essentially solving the problem of an Idol-less schedule.
This season, they lost American Idol, freeing up about two hours of time slots in the spring. However, it's worth noting that FOX renewed six drama hours instead of the usual four, and assuming Family Guy is renewed, they've renewed their typical three comedy hours. Do they really have room for Grandfathered?
It is widely known that the most money that a network or production company makes from a show is the distribution rights. FOX only holds half the ownership in Grandfathered, which the other half belonging to ABC Studios. The ratings are miserable, holding at around a 0.8 for its most recent airings despite having one of the best, if not the best, lead-ins FOX could have given it. In fact, it just recently went down to a 0.6 for its return. We can't say they didn't try with the time slot upgrade. Sure, the New Girl lead-in has made it more female-skewing, but it still loses a sizable portion of its lead-in's numbers. Given how far away this show is from a potential syndication deal of which FOX would only partially benefit, I see no reason to keep this one going. Unless, of course, there are numbers we are not seeing, such as C7 boosts or strong streaming numbers. I don't catch that vibe though. You can argue that half-owned Grandfathered can get renewed with ratings just below un-owned Brooklyn 9-9, but we must remember there that Brooklyn 9-9 is only one season away from a potential syndication deal, and given that it is supposedly a solid streaming player for Hulu, the more episodes the better.
If FOX wants to do more comedy business with ABC Studios, or if ABC Studios pressures them into having one of their comedies on the schedule next season, there is the Courtney Cox-led Charity Case, which on the description and the lead's name looks to be a better fit with New Girl than Grandfathered. I think that would be a solid option, and we must also remember that FOX has ordered comedy Son of Zorn to series. Renewing Grandfathered would just be putting another low-rated comedy on the schedule when the priority should be finding something that will last.
FOX picked up two new comedies for this season's fall schedule and a couple more for midseason, so I see no reason why they can't do that again.
FOX only has to schedule 12.5 hours of programming next season, and they've already renewed 8.5 hours. If you include Family Guy, MasterChef Junior, Son of Zorn, and Shots Fired, we are up to 11.5 hours of programming. That's only 1.5 hours left, and there may even be another hour of reality thrown on Fridays somewhere. Even if they save a couple veterans for midseason, I think a struggling FOX would like to premiere more than 1 new drama and 1 new comedy in order to find a new hit. They supposedly have strong pilots in dramas Pitch and Star, and comedies Making History and Charity Case. So could Grandfathered get saved? Yes. It wouldn't surprise me *that* much. But I think it should be in FOX's best interest to cancel the show and start fresh. Their schedule is getting full as it is.