Nashville S4E11 'FOREVER AND FOR ALWAYS' Spring Premiere Review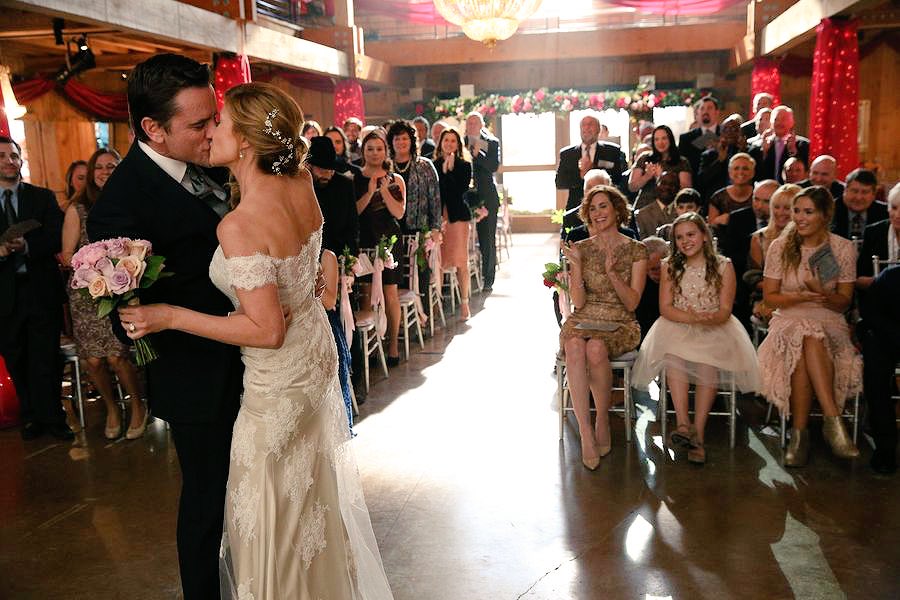 SPOILER TV
Nashville is finally BACK! The past three months have been horrible. I hope the ratings don't suffer. Anyway, this week is the wedding the whole country has been waiting for. I know this episode will be happy, sad, and just amazing.
Rayna wants to keep her wedding a secret, away form the paparazzi and have it at her mom's favorite spot. Daphne is not happy about the wedding. Avery still does not want to hear anything about Juliette, and does not want to still have a relationship with her. Maddie and Daphne perform a song at Deacon and Rayna's rehearsal dinner, but Daphne stops singing, not happy. Leaving the rehearsal, Rayna and Deacon are ambushed by the paparazzi, and after a rude comment is made to Deacon about being a drunk, he angrily pushes down a reporter.
Rayna and Deacon are forced to move the location of the wedding, Maddie is worried about Deacon's anger issues. Deacon goes in Daphne's room to see is she is OK, but then Daphne freaks out on Deacon, and starts yelling at him, afraid obviously, with Tandy to come to the rescue. Maddie tries talking to Rayna about Deacon's issues, but thinks Rayna is just making excuses. Avery is having trouble keeping up with lies of where Juliette is. Rayna tells Deacon about Maddie being scared, and he is bothered and leaves.
Layla returns. Daphne feels like she is not part of the family, and says Tandy does not want Deacon to marry Rayna either. Gunnar continuously tries to set up Scarlett. Avery is mad that he is still married to Juliette. Maddie is consoled by Cash. Tandy and Rayna talk and Rayna tells her she loves Deacon and Tandy need to also. Deacon goes to the cemetery and talks about getting cold feet since the kids don't like him. Colt tells Layla that Jeff died saving Juliette.
Avery is kept putting up with Juliette's lies. Rayna consoles Maddie and Daphne about Deacon. Deacon is missing, but then comes back. Scarlett and Gunnar sing When the Right One Comes Along, Deacon and Rayna exchange wedding vows, which is the only time I have got teary eyed on TV ever.
Layla confronts Avery about his relationship. Avery hates to lie about Juliette and has a panic attack. Deacon makes up with the kids. Scarlett tells Gunnar she misses having someone special. Avery tells Emily he can't do it anymore. Layla hires Glenn as a manager, and says she wants Avery to be her producer.
AMAZING X10. Best episode of the season! I can't say how good it was, It was awesome. The plot was and episode was really well done, and I was sweating through my eyes, lol. Can't wait for the rest of the season, and hey we trended!
Hope you guys liked the episode! I really hope the ratings go up for this episode! Don't we all really want another season of this amazing show? I do! Watch live everyone!
Sound off in the comments below!
Share this